Innovative Food Processing Technologies Unveiled at IPPE 2018
Increase Yield & Efficiencies in Your Food Processing Operations
Linde is joining more than 1200 IPPE 2018 exhibitors and 30,000 visitors to share details on exciting new food processing technologies that may help your operation drive innovation while saving money and optimizing quality.
A supplier of complete cryogenic freezing, chilling, MAP packaging, and water treatment solutions for the food industry, Linde will present a new wave of developments that include solutions to:
Increase throughput in freezing processes

Achieve faster, more consistent chilling

Automate the handling and chilling of cut or deboned meat and poultry

Replace the manual shoveling of dry ice in chilling processes
Here is a quick overview of new food processing innovations:
NEW!! CRYOLINE® CWI CRYOWAVE® IQF Impingement Freezer
Achieve rapid freezing of IQF food products, enjoy newfound levels of flexibility and productivity.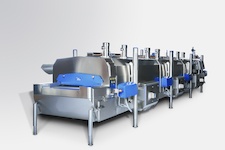 The new patent-pending CRYOLINE® CWI CRYOWAVE® Impingement Freezer combines the benefits of dual-action CRYOWAVE product agitation with impingement cryogenic gas flow into a single high-capacity solution, ideal for crusting or individually quick freezing (IQF) sliced and diced chicken, chicken wings, meatballs, sausages and pizza toppings.
---
ACCU-CHILL® BI Mixer and Kettle Chilling with LIXSHOOTER® Bottom Injector
Fast, efficient chilling and high-quality product with no additional processing equipment.
New LIXSHOOTER® injectors for mixer or kettle chilling self-seal against the mixer or kettle wall to prevent food from penetrating and clogging nozzle orifices. These hygienically designed bottom injectors are easy-to-retrofit and can chill with either liquid nitrogen (LIN) or carbon dioxide (CO2). A dual-cryogen option makes it possible to switch between cryogens in minutes.
---
ACCU-CHILL® Automated Box Chiller
Instant, on-demand CO2 chilling of perishables directly in their packing boxes.
Unlike bins of dry-ice pellets, the ACCU-CHILL Automated Box Chilling System is fully automated to reduce overhead production costs and designed with an integrated exhaust system to prevent elevated CO2 concentrations in the workplace.
---
ACCU-CHILL® Combo Chiller
Automated chilling and handling systems reduce labor and can improve food quality, plant safety and productivity.
The ACCU-CHILL® combo chiller automates the handling and chilling of cut or deboned meat and poultry. The chiller evenly layers product in the combo bin with CO2 snow for more rapid and consistent chilling. It also eliminates the risks associated with manually loading product and shoveling dry ice."
Linde experts will be available at IPPE 2018 to discuss your challenges and help find the best solution for them among our efficiency-driven portfolio. We look forward to seeing you in Hall B at Booth Number B4761!
Need more information about cryogenic chilling and freezing technologies? No problem! Check out our informative blog or simply fill out the form below and we will get you the information you need.