Cryogenic Chilling Technologies and Linde Process Expertise Return to IPPE 2019, booth B4651

Linde is joining more than 1,200 exhibitors and 30,000 visitors at IPPE 2019 to share details on exciting food processing technologies that may help your operation drive innovation, while saving money and optimizing quality.
A supplier of complete cryogenic freezing, chilling, MAP packaging, and water treatment solutions for the food industry, Linde will present developments that include solutions to:
Increase throughput in freezing processes.

Achieve faster, more consistent chilling or blending.


Automate the handling and chilling of cut or deboned meat and poultry.

Replace the manual shoveling of dry ice in chilling processes.
Here is a quick overview of our food processing innovations:
CRYOWAVE® IQF Impingement Freezer
For Individually Quick Freezing (IQF) Diced Chicken, Wings, Meatballs, and Pizza Toppings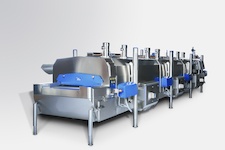 Our patented, dual-action CRYOWAVE® Impingement freezer can reduce operating costs while increasing output. The high-efficiency freezer design delivers nearly three times the heat transfer rate of traditional cryogenic freezers, and the wave-action of the belt helps keep items separate as they freeze.
---
NEW SmartChill Control System
For Consistent Chilling in a Mixer or Blender
The new SmartChill control system was designed to a) deliver a consistent flow of cryogen to all injectors at the bottom of a mixer/blender for more consistent temperatures throughout a batch, and b) to supply the correct ratio of carbon dioxide (CO2) or nitrogen (N2) to food product in every batch, for high batch-to-batch consistency. In addition, new bottom-injection (BI) mixer chilling systems feature hygienic LIXSHOOTER® injectors, designed to eliminate nozzle clogging while dramatically reducing maintenance and inefficiency.
For more information on how cryogenic chilling systems may help improve your food process, download our free whitepaper.
---
Automated Combo Chiller
For Equilibrating Raw Meat and Poultry for Shipment
Our Automated Combo Chiller gently layers CO2 snow onto raw meat or poultry as pieces are automatically loaded into the combo bin from the top. This not only eliminates labor, and storing and moving pellet bins, but it helps achieve more rapid and consistent temperature equilibration throughout the batch.
Linde offers a range of gases and gas-technology for the food industry, backed by an expert technical team and Food Technical Center. Linde food experts will be available at IPPE 2019 and look forward to seeing you at booth B4651!
Need more information about cryogenic chilling and freezing technologies? Fill out the form below and one of our experts will be in touch.